Connecting with God, Connecting with Each Other and Connecting with Our World
Welcome to Grace Community Church
Hello. We are a church based in the south of Maidstone, the county town of Kent and part of the Assemblies of God in the UK.
Faith in Jesus reminds us that we are all recipients of the unmerited love and grace of God, and a life of grace is something we seek to practice among each other and in the community around us, nurturing a loving and active relationship with Jesus Christ empowered by the Holy Spirit.
Whatever your background there's always a warm welcome and as you browse our web site we hope you will get a flavour of our church community.
We are embarking on a major modernisation programme for our church buildings - follow the link here to find out more.
We are a registered charity in England & Wales no: 1119181.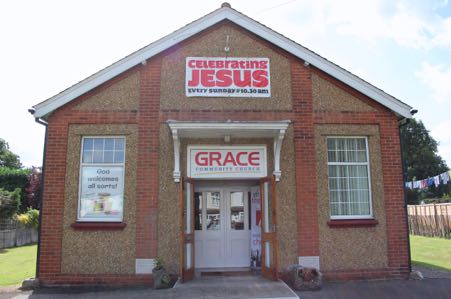 Whats On
25 Apr 2018 - Book Club
This session the Book Club is reading 'Lineage of Grace' by Francine Rivers. Meeting at 7:30pm at Starbucks, The Village Hotel.
28 Apr 2018 - Men of Grace
An opportunity for men to meet to discuss faith, to encourage one another and have fun. Every other Saturday at 9am.
29 Apr 2018 - Kids Club
Sunday at 4pm... Come along to Kids Club there's the usual fun and games, craft and food and a chance to learn about Jesus
29 Apr 2018 - Sunday worship
Join us for our Sunday Service - time to worship Jesus and to celebrate all He has done for us... and today is our Information Sunday, time to look back and gove thanks and look forward with anticipation.
Food for thought
Now, brothers and sisters, I want to remind you of the gospel I preached to you, which you received and on which you have taken your stand. By this gospel you are saved, if you hold firmly to the word I preached to you. Otherwise, you have believed in vain. For what I received I passed on to you as of first importance: that Christ died for our sins according to the Scriptures, that he was buried, that he was raised on the third day according to the Scriptures, and that he appeared to Cephas, and then to the Twelve. After that, he appeared to more than five hundred of the brothers and sisters at the same time, most of whom are still living, though some have fallen asleep. Then he appeared to James, then to all the apostles, and last of all he appeared to me also, as to one abnormally born. (1 Cor 15:1-10)
Recent Tweets